Despite his young age and lack of experience, 10-year-old Jamaican driver Alex Powell continues to impress in every race he takes part in. After significant performances in Europe, Alex tried his luck in Colombia, in the Rok Cup Panamerican Challenge at the circuit XRP Motorpark. For a first try, it was a master stroke, as the Jamaican hopeful became 2018 Champion in Mini Rok, after a perfect Final. As if that wasn't enough, Alex Powell took the opportunity to qualify for the International Final of the Rok Cup in Italy.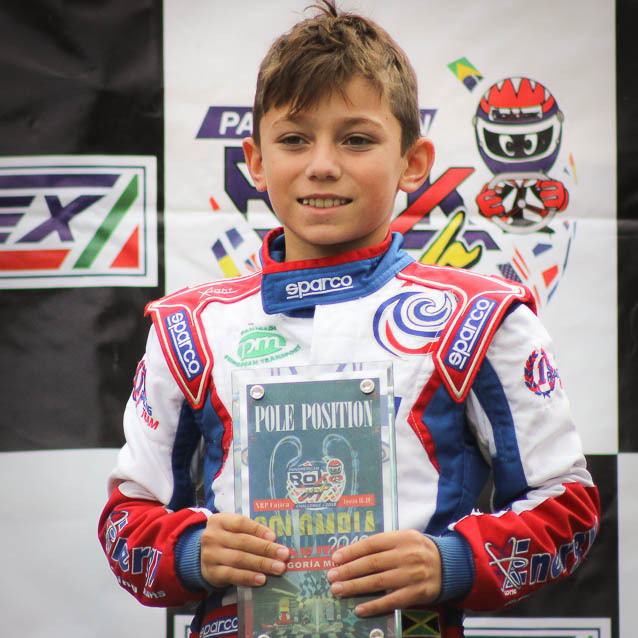 Pan-American Champion!
The beautiful collaboration between the young Alex Powell and Energy Corse continues! While the Jamaican hopeful races in the colours of the Italian team, the excellent results continue relentlessly. In August in Colombia, Alex went one step further in being able to play the lead role in the Rok Cup Pan-American Challenge squad. His progress was welcomed by all.
"As a sportsman, Alex really does have many qualities and surprising potential," commented Mick Panigada, head of Energy Corse. "He applies the advice of people around him with great talent: Mike Wilson, his coach, who is also the most successful kart racer in history with six world titles, Luigina Guerrini, whose charisma and technical skills are unanimously recognised, and Simone Sorio, renowned for his professionalism and rigour when he works with a driver."
Alex brilliant in all conditions
"This year, the final of the Rok Cup Pan-American Challenge took place on the difficult track of XRP Motorspark which is no less than 1500 metres long! It also has the unique situation of being located at altitude, which complicates the running of the engine," noted Simone Sorio. "For Alex, there were several new parameters to manage and he did it perfectly. Not to mention the weather conditions, with constantly changing temperatures and regular showers that forced us to constantly change settings."
Unlike some of his opponents who failed to avoid incidents, Alex Powell kept his head to win the Final brilliantly. In particular there was a spectacular overtake in the Prefinal on two drivers who were some of the favourites of the event. His ability to avoid mistakes was also noticed…
With this magnificent victory in Colombia, Alex is preparing to resume his programme in Europe with the Energy Corse team. The Italian Championship, the WSK Final Cup and the Industry Trophy are on the schedule. "His success at the Pan-American Challenge gave the Jamaican driver an entry to the grand finale of the Rok Cup at Lonato, Italy, in November. I'm sure Alex will play an important role in this difficult race, where nearly 170 drivers are entered," said Mick Panigada. "Then it's time to think about the 22nd edition of the Supernationals in Las Vegas!" Alex Powell is indeed at the beginning of a career that looks very promising.